Classics in the Capital
No city in North America offers a more exciting environment for the study of classical civilization than Washington, DC. The architecture of the nation's capital and the institutions of the federal government serve as vivid reminders of the enduring importance of the classical tradition in America. The dome of the US Capitol can be seen from the campus of Catholic University, which has its own Metrorail station and is only a short distance from the Mall and all the special attractions of the nation's capital.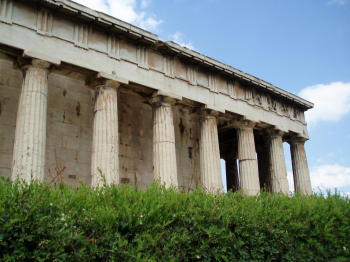 Since Catholic University belongs to the Consortium of Universities of the Washington Metropolitan Area, students in the Department of Greek and Latin have the opportunity to select courses from the combined offerings of participating universities. A related and invaluable university group, the Washington Research Library Consortium, further enhances member institutions' library strengths by circulating deliveries throughout all library systems via an easy and rapid web-based ordering process. Students may also do research at the Library of Congress and are encouraged to explore the Smithsonian Institution, Dumbarton Oaks, and the National Gallery of Art. In nearby Baltimore are the superb classical collection of The Walters Art Museumand The Johns Hopkins University. We make every effort to introduce our students to these resources.