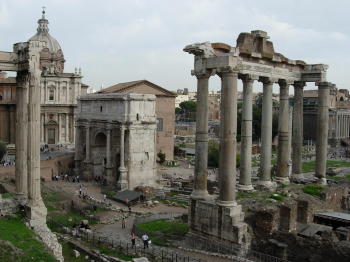 Applying for admission 
If you have explored our M.A. and Ph.D. programs and are thinking about applying, you may want to consult our frequently-asked questions about our graduate programs to assist you in making your plans. Our advisors are always willing to meet with prospective students to discuss the department and your potential place within it, as well.
Once you are ready to apply, you should consult the Graduate Admission section of the University website for more information. You will need to prepare a basic graduate application packet, to which you will need to add the following supplementary materials:
Supplementary materials required for a graduate application to the Department of Greek and Latin
An essay (Statement of Purpose) of approximately 1000-1500 words detailing your academic interests and goals, the sort of career you hope to pursue, and the reasons that have led you to apply to this particular program at the Catholic University of America.

Suggestions: The essay is one of the most important parts of your application. It represents an opportunity to present a coherent narrative of your academic career to date, to discuss your plans, and to demonstrate why Catholic University in particular is an appropriate bridge between your past and your future. It is particularly recommended that you discuss your skills and background in the broader field, describe the levels that you have attained in the ancient languages, mention any special educational experiences you may have had (e.g. an honors project, study abroad, experience as a research assistant or museum intern, etc.), and explain any items in your academic record that may not be representative of your current goals and interests.


A writing sample of previous academic work. This should be a paper of at least seven pages, based on research in both primary and secondary sources and offering full references (footnotes or endnotes) and a bibliography. For best consideration, you should submit your most sophisticated work to date, preferably a project that has been well-received by your former teachers. Please submit a clean, unmarked copy.

Suggestions: The writing sample, if at all possible, should show direct engagement with primary sources in the ancient languages; ideally, it should also be fairly recent. Writing samples completed as an undergraduate should generally be selected from the upperclass years. A section of an undergraduate senior thesis or an M.A. thesis in progress is acceptable if the section itself is completely finished and polished, with all references complete.  While there is no page maximum for the writing sample, please try to keep your submission under 30 pages.


A list of the modern languages you have studied or know. You should indicate whether your competence is (e.g.) mainly oral/aural, only in reading, or in reading and writing, and approximately what level of competence you feel you have attained.

Suggestions: It would be useful to note if you have plans to pursue work in a modern language during the summer prior to entering a graduate program. If you have prior studies in an ancient language other than Greek or Latin (e.g. biblical Hebrew, Coptic, etc.), you may also feel free to list it here.


A list of all works, classical, patristic, or medieval, that you have read in the ancient languages. If only sections of a work were read in the original, please estimate the percentage of the whole, or provide an approximate page count.

Suggestions: These Greek and Latin lists are of particular importance in assessing candidates' linguistic attainment. It is understood that some applicants at the M.A. level, in particular, may have more limited language experience (see the FAQs about graduate admission for a discussion of how the department addresses this situation). If you have only studied a language at the elementary level, or if you have background in self-study or in high school, please enter it and describe it on this list as precisely as you can.
Uploading these supplementary materials is always the easiest way to submit them.  But any supplementary or regular application materials, if mailed in hard copy, should be sent to the following address:
Office of Graduate Admissions
The Catholic University of America
620 Michigan Avenue, NE
Washington, DC 20064
Phone: (202) 319-5305
Toll-free: 1-800-673-2772
Fax: (202) 319-6533
General email: 
cua-admissions@cua.edu
Will I be admitted?
As you can see from the frequently-asked questions about our graduate programs, there is no set formula for successful results in the admissions process to the department. The faculty consider prior academic achievement (as witnessed by previous studies and by the writing sample), past experience in the general field of classics and in the study of foreign languages, GRE scores, letters of recommendation, seriousness of purpose, and potential for future success when evaluating applications. Some of our current students have followed comparatively traditional academic paths to and through Catholic University; others have come to us from the professional world to start a second career. If you are interested in what we have to offer, we are interested in learning more about your potential.
Financial support
Graduate students in the Department of Greek and Latin at both the M.A. and the Ph.D. levels are eligible for a variety of types of financial support that fall into four categories: merit-based aid awarded by the university ( = tuition waivers), departmental support ( = stipends awarded as fellowship or paid in return for teaching), need-based aid acquired by virtue of enrollment in the university ( = loans or federal work-study), and wholly external scholarships and fellowships.
Financial aid of all types for graduate study requires advance planning and early application. At Catholic University, you must apply before February 1 for fall entrance in order to receive full consideration for financial aid.
Merit-based aid through Catholic University
Student candidates are nominated for university-wide competitions for merit scholarships ( = tuition waivers) by their respective individual departments and programs. In order to be considered for university merit-based aid, you must have GRE scores available by February 1 for fall admission.
Departmental support
In addition to offering some fellowship funding, the Department of Greek and Latin regularly employs graduate students, especially those who are in their second year or higher, as teaching assistants (TAs) or teaching fellows (TFs). TAs serve as grading assistants and as instructors of discussion sections (particularly in their earlier years of study); TFs serve as solo instructors of sections of elementary and intermediate language courses. Both types of positions are compensated with stipends, and all TAs and TFs receive substantial supervision and mentoring as they continue to refine their teaching skills.
External scholarships and fellowships
External scholarships and fellowships are an extremely helpful way for many US graduate students to fund part or even all of their educations. CUA maintains a sample list of such opportunities; the Department of Greek and Latin also maintains its own opportunities page.
Important Dates
The Catholic University of America accepts applications on a rolling basis. Once your application file is complete, you will receive a decision within 4-6 weeks.
For Fall Semester
For Spring Semester
For Summer Term