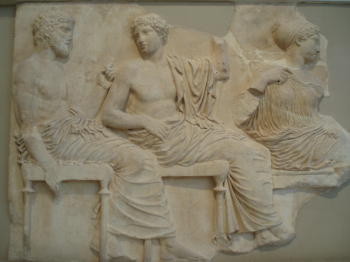 Welcome! The Department of Greek and Latin is pleased to receive inquiries and visitors throughout the year, including during the summers. The best times to visit the department, however, are during the fall and spring semesters, when our faculty are in residence, our students are on campus, and our course schedules are in full swing. During these times, you can meet not only with our advisors and our other faculty, but with our majors or our graduate or certificate students. You can also attend one or more of our classes to gain a sense of departmental life.
We are glad to talk with you at any time about your interests in the ancient and medieval worlds, your academic background, and the possibility of your joining us here at The Catholic University of America.  Please feel free to contact us.
Students accepted to the Department of Greek and Latin at Catholic University are invited to explore their academic and career goals within a faith-based liberal arts education. The School of Arts and Sciences, which includes out department, is like a liberal arts college embedded within the broader University. It emphasizes excellence in scholarship grounded in the Catholic intellectual tradition. 
Undergraduate Admission

Apply to Catholic University's undergraduate programs in Greek and Latin.

Learn More

Graduate Admission

Apply for acceptance in our master's and doctoral degree programs in Greek and Latin.

Learn More