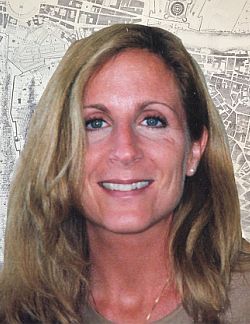 Department
Greek and Latin
School
School of Arts and Sciences
Crispin Corrado is a classical archaeologist specializing in Roman art, who received her Ph.D. at Brown University, and her M.A. in Art History and B.A. in Classics from the University of Chicago. She was also a student at the American Academy in Rome's Summer Program in Archaeology, and excavated at Pompeii for several seasons with a team from the University of Rome.
Dr. Corrado has worked in a curatorial capacity in the departments of ancient art at the Smart Museum of Art at the University of Chicago; the Museum of Fine Arts, Boston; the Museum of Art at the Rhode Island School of Design; and the Vatican Museums. While working at these institutions, she assisted in the creation and implementation of exhibitions of ancient art, co-authored catalogs, wrote articles, and presented guest lectures. She has received grants from the Andrew W. Mellon Foundation, the Samuel H. Kress Foundation, and the Patrons of the Vatican Museums, as well as several fellowships in support of her research and doctoral work.
Dr. Corrado's areas of specialty within the world of the ancient Mediterranean include wall painting, sculpture, funerary structures and practices, and domestic architecture. Her publications center on the same interests, and include museum catalogs, an article on Roman wall painting ("The 'Zebra Stripe' Design: An Investigation of Roman Wall Painting in the Periphery") published in the Rivista di Studi Pompeiani, and a monograph on the commemorative funerary practices of the Romans during the imperial period, entitled Merry and Jovial: Reconsidering the Effigies Immortalis and the Commemoration of Roman Boys. Her current writing projects include a textbook on ancient Rome (under contract with the University of California Press), and an article re-investigating the ancient Monument of Eurysaces in Rome. She is also the founder and an officer of the Rome Society of the Archaeological Institute of America.
Dr. Corrado has lived in Rome for the past 18 years, and teaches undergraduate and graduate courses on Etruscan, Roman, and Greek art, history, and culture at several American universities in Rome. She is proud to have taught for the Catholic University Rome Center since 2009.