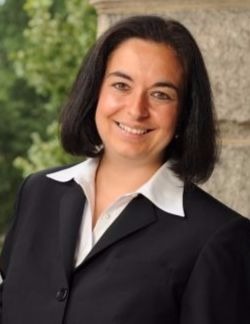 Department
Greek and Latin
School
School of Arts and Sciences
Biography
Dr. Ferrario is a specialist in Greek history and literature, particularly of the fifth and fourth centuries BCE. She is the author of Historical Agency and the 'Great Man' in Classical Greece (Cambridge University Press, 2014). Her most recent book chapters include projects on the role of rumor in Xenophon's Anabasis, on collective characterization in Xenophon's Hellenica, and on depictions of leadership in Thucydides. She is currently editing the Wiley-Blackwell Companion to Leadership in the Greco-Roman World (for which her own contribution explores leadership during the 'twilight' of the Athenian democracy); writing a book chapter on transactional loyalty in Xenophon's Anabasis; and working on a monograph on the social performance of equality in classical Athens.
Dr. Ferrario was the translator and librettist for The Oresteia Project, which set all three dramas of Aeschylus' Oresteia as new one-act operas in English (performed at CUA in 2001, 2003, 2004, and 2006), and regularly writes and teaches about the reception of the ancient world in opera. She has been a Marshall Scholar at Oxford (1996-98), a Fulbright Scholar in Greece as a Regular Member of the American School of Classical Studies at Athens (2001-02), a Graduate Prize Fellow of the University Center for Human Values at Princeton (2003-04), a Dolores Zohrab Liebmann Fellow (2004-05), a Summer Stipend recipient from the National Endowment for the Humanities (2008), and a residential Junior Fellow of the Center for Hellenic Studies (2009-10). In 2017, she led the annual CUA Honors Program European spring break program, this time to Greece. During the fall semester of 2012, the spring semester of 2016, and the summer of 2022, she served as a visiting faculty member at CUA's Rome Campus in Italy.
Dr. Ferrario has been a Faculty Fellow of CUA's Center for Teaching Excellence (2021), a recipient of CUA's Faculty Award for Teaching Excellence in Early Career (2013), and an honorary inductee into Phi Beta Kappa (2017). She has taught courses in ancient languages, literature, history, and culture at CUA since 2002, and was named visiting assistant professor in 2005, assistant professor in 2006, and associate professor in 2013. Since spring 2015, she has served as Chair of the Department of Greek and Latin.